Best Limo Service In Munich
We are here to make your journey stress free and comfortable. We at Munich Limo Service guarantee excellent customer service with affordable rates.
Best Limo Service In Munich
We are here to make your journey stress free and comfortable. We at Munich Limo Service  guarantee excellent customer service with affordable rates.
Drive in Class
Whether you require a professional Limo experience or just to arrive in style, our fleet of high-class vehicles will meet all your requirements.
Comfort & Safety
Our vehicles are all top of the line in their respective classes. We ensure the greatest comfort for journeys both long and short. Make use of our complimentary beverages, magazines, and sanitary products. Our drivers are there to help with any of your requests.
Great Customer Service
Munich Limo Service provides excellent customer service both before and after your bookings take place. Do not hesitate to contact us with any queries regarding your journey. No request is too big or small for us to accommodate.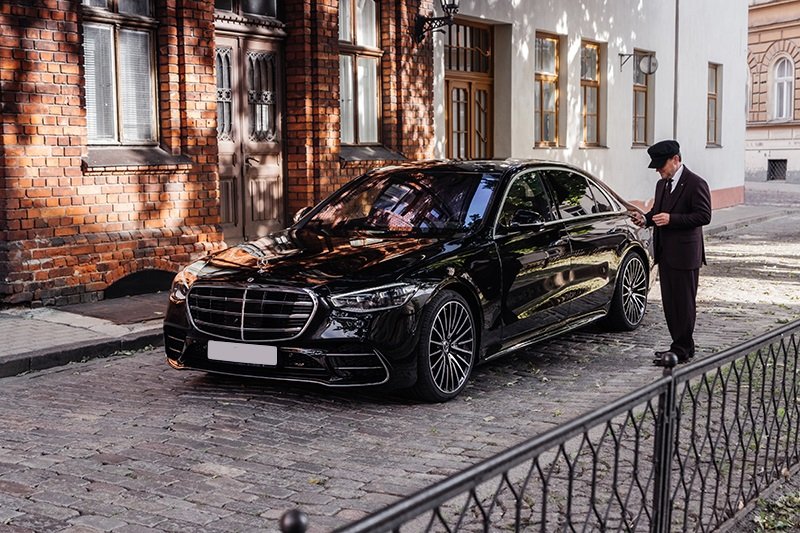 With over a decade of Experience, We have earned the trust of MultiNational Companies, Airlines, Universities and Hotels.
Vehicles are Carefully selected and maintained to very high standard. Fleet is no more than 4 years old.
All-inclusive rates with NO hidden charges.
Our drivers regularly sanitize vehicles, Use Gloves & Hand Sanitizers and comply with all local laws.
Our Luxury Fleets
Executive Vehicles

Mercedes E-class or similar
Mercedes S-class or similar

Mercedes V-class or similar
Munich Limo Service Experience the Luxury
Every journey in one of our chauffeur driven prestige cars is a VIP experience – ideal for business or leisure. We offer chauffeur cars for everything from Munich transfers to Germany-wide airport and Cities. Our luxury cars include an impressive array of first-class models from car-makers as prestigious as Mercedes, so that there is always something to suit every client's personal taste. Just one of the ways in which we provide exemplary service, tailored to our customers' needs. Our dedication to excellence and complete understanding of individual client requirements is what shapes and defines our service.
We offer a leading Limo service in and around Munich, our executive vehicles guaranteeing ultimate luxury, comfort and safety to all our clients. Whether you are travelling to professional networking events, business meetings or require corporate hospitality.
Whether you're going from Munich airport for an International meeting, an industry conference or another type of corporate event, we offer personal and tailored executive Limo services to ensure you always travel in style for business as well as leisure.
With Munich Limo Service you can expect the most prestigious Limo services for weddings, as we pride ourselves on excellence and our highly professional and experience chauffeurs who are committed to making your big day run smoothly and punctually. 
Business & Personal Accounts
When you have accounts with us , you'll never be left wanting more. Our comprehensive fleet of luxury executive cars means that you'll get the right car for the right job every time.
Discover the best of German heritage and tour the most famous sites that makes Germany the greatest place to visit. Book your day tour today.*Please note that if a tour guide is needed, there will be an additional charge*
Meet and Greet Chauffeur Service
We ensure you have a swift, smooth and a safe passage through the airport whether you are arriving, departing or catching a connection.
Reach your destination safely and comfortably
Munich Limo Service  are Munich based premier Limo company providing professional executive Limo services and affordable luxury chauffeur driven car hire in Munich and Germany Wide. Providing outstanding customer service for many years Munich Limo Service offers secure and discreet chauffeur services for leisure and business travel.
We provide a high level of personalized customer service for high-net-worth individuals, executives in large corporations and VIP's setting an example of Munich finest chauffeurs to our leisure and business clients. We take pride in having an exceptionally qualified and reliable elite chauffeur team who are capable of satisfying the most demanding schedule.
Munich Chauffeur Service works very closely with a number of private charter operators companies delivering an unparalleled chauffeur service in Munich. Our professional, polite executive drivers are very well aware of the private airports' protocol. We are also very proud to serve VVIP clients including private jet owners, Quintessentially members, Royal families from the middle east, members of UN and the EU Parliament, enabling us to understand the discretion and level of service required from us. Our Customer Service Team is here to help 24/7
Whether you are in Munich on Business or Leisure trip, let our highly trained chauffeurs take you to your destination in total comfort and safety.